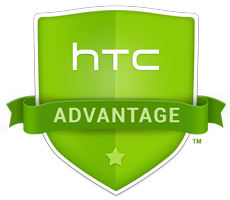 Get that cracked screen fixed for free -- but only once.

HTC posted a video on the 17th showing a bike riding thrill seeker taping an HTC One to his helmet and preparing to be pulled at a high speed by the car in front of him and said "we've got you covered" inside the description. It turns out that HTC was teasing a kind of alternative to what we now do to make sure our devices are protected, like using bulky cases or paying too much for device insurance.

The HTC Advantage program is offered to anyone purchasing a device in HTC's One line, being the original One, the Max or the Mini. The highlights are as follows:
A commitment to providing software updates for every major Android release for up to 2 years
Free cracked screen repair within 6 months of purchase
25GB or 50GB of free cloud storage via Google Drive
HTC Backup for storing your settings in the cloud should you need a new device
Online and over-the-phone support
You can check out HTC's official Advantage site for more information and the full terms / conditions.